Forum Ethibel's Investment Register is a reflection of our sustainable universe. The register consists of companies and countries, which are carefully selected based on ESG data and their assessment by a team of experts (the Register Committee).

Its composition strives for a balanced sectoral and geographical spread. The objective is to ensure that fund managers can build financially and technically sound portfolios based on our register.

Selection: data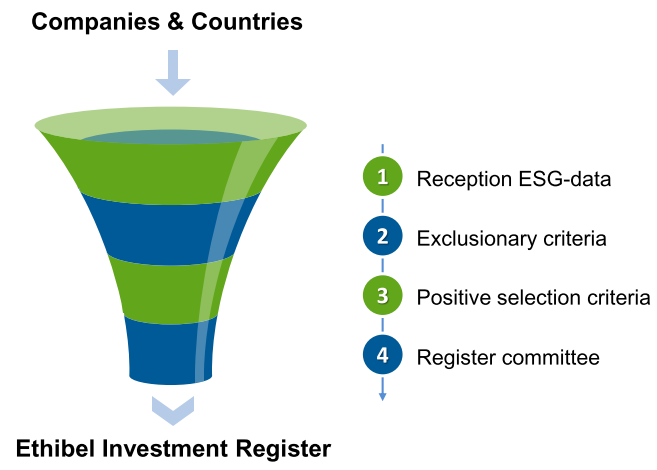 The decision as to which companies/countries will be added to the register is a complex one. The starting point is obtaining data about companies, sectors, and ESG scores from the data provider Moody's ESG Solutions.
This independent rating agency, which specialises in audits on corporate social responsibility (CSR), carries out business evaluations. They base these primarily on annual reports, websites and public reports. They also receive additional information from the companies and involve stakeholders, such as trade unions and environmental organisations, to gain a multidimensional perspective.
Selection: criteria
We subject Vigeo Eiris' information to a 'sustainability filter'. This filter comprises non-financial criteria that determine whether we can add a company, institution or government to the register.
The filter has both a negative and a positive approach.

Negative/Exclusion criteria Detecting companies and countries that are eliminated or excluded from the register, based on criteria regarding sustainability or ethics.
Involvement in tobacco, armament, nuclear energy, and gambling

Involvement in conflict, war or serious crisis situations

Governments violating labour laws or human rights

Positive criteria Identifying companies and countries that have reliable and credible sustainable track records and/or business plans that contribute to a more sustainable world.
Evaluation within the industry. We take into account a company's level of exposure to significant sectoral issues and sector based risks and opportunities.

Selection based on recognition of and actions in accordance with their social responsibility by:

The formulation of clear and ambitious policies

The allocation of effective resources

The demonstration of measurable results

The ten principles of UN Global Compact play a crucial role in these assessments. These principles in the areas of the Environment, Human Rights, Labour, Anti-corruption and Market Ethics form an integral part of our responsible investment criteria.
Three groups of positive indicators:

Environmental protection

The rule of law

Commitment to social protection and solidarity

Other criteria: Apart from negative and positive criteria, we also take contentious issues and controversiesies into account.
Contentious or controversial activities
= activities that give rise to discussion.
We consider companies involved in controversial activities on a case-by-case basis and may exclude them from the register. Forum Ethibel considers the following subjects as controversial: alcohol, animal welfare, fossil fuels, genetically modified organisms, hazardous chemicals and the sex industry.
Read our policy here.


Significant issues or controversies
We also evaluate companies involved in significant issues or controversies individually. These are companies that are discredited by certain practices, which may be reflected in conflicts, lawsuits or scandals. Essential factors, such as frequency, severity and how a company responds, determine how heavily a controversy weighs and whether we will add a company to the register.